Read testimonials by clients of WEB DESIGN JUST FOR YOU (See Portfolio here). You may go to the websites to find their contact information and verify their testimonial regarding the service and product received.   See more recent testimonials on Google Reviews here.
---
"The company that created my original website had a management change requiring me to look elsewhere for support so I started researching how to do these tasks myself. I couldn't understand even the basic terminology and was constantly looking up definitions, acronyms and making little progress.  Fortunately I contacted Eileen at Web Design Just For You who quickly fixed my botched upgrade issues; increased security and started a program of routine backups. Eileen has always been there for my occasional "dumb questions" with quick answers and helpful suggestions.
Following a decade of "winging it," I can now relax knowing a professional is properly monitoring and maintaining the site."
Lew Richardson, blogger on lakedonpedro.org
September, 2016
---
"I just started my plumbing company and  began the journey of creating the image of my corporation. I'm very hands on and particular with my projects. I know exactly what I want and it's hard finding someone who can make my ideas and thoughts be seen. For someone as picky as myself, I must say Eileen surpassed my expectations. When Eileen told me my website draft was ready for me to see, I was a bit nervous and bracing for something I wasn't going to like, but Wow!!! What I saw amazed me, it put a huge smile on my face! It was better than what I wanted it to be. Eileen was dead on! I love my website! I highly recommend her,  she is wonderful to work with, she's patient, listens to detail and took her time explaining everything. She's straight forward, and always has time to answer my questions.  Unlike other acquaintances, she never once cut our conversation short or rushed me. Shes a true professional, and glad I found her. Thanks Eileen!"
Jon Trujillo, Noble Plumbing Inc
July 2016
---
"Eileen Forte produced Sabatino's Ristorante's website.  The web design speaks for itself and the production process was pleasant and on time.  We are happy and grateful that the design provided for us can be enjoyed by you.  Web Design Just for you is a fantastic value that can be easily verified.  We were so pleased with the website that we also had my personal blog website, The Back Story News, redesigned and maintained by Eileen.  I highly recommend her for any website project."
Carmen Sabatino, ex-Mayor of Modesto and owner of Sabatino's and The Back Story News
March, 2016
---
"Web Design Just For You re-did our old law school website, and completely modernized it beyond my wildest expectations. Eileen is a highly competent and talented web designer, and is very dependable and was available when I needed to discuss changes to our website.
I would recommend Web Design Just For You to anyone who is thinking about creating a professional website."
Benjamin J. Ramos, Dean
Central California University School of Law
---
"After going through Two web designers our website was still incomplete, generic looking and just simple. I then contacted Eileen at Web Design Just for You and expressed my dissatisfaction and experience using other companies just not doing what I asked or hoped for in regards to our website and after talking to her per her request sent her over what I had sent others before and all I can say is amazing. In about two days after meeting with Eileen our website was fully functional, with added ideas from Eileen the Website is now 100% complete, professional and looks amazing. I recommend Web Design just for you, it's nice to be able to rely on a web designer that actually knows what they are doing, creative and easy to communicate with and on top of it all helps you with great ideas. Thank You Eileen for making our website right, we love it."
Paul Maciel, Director of The House Fitness, May 2015
---
"Personable and professional, Eileen went above and beyond to help us make a beautiful site for our community event. I definitely recommend her!"
Elizabette G., Patterson High Centennial, April 2015
---
"Eileen helped us with our website. She is very knowledgeable, creative, and fast. I highly recommend Eileen to any one who needs web site services."
Tim Huynh, Learn Earn Together, March 2015
---
"My website went live today! I am excited.  I can't believe I didn't do it sooner.  Eileen made it very easy and comfortable to design even though she knew nothing about dump trucks.  (She does now.)  Everyone who sees the website says how professional and expertly done it is.  She did the research on my business and came up with some great ideas to combine with mine and I could not be happier. GREAT JOB Eileen, thank you so much. I am glad I found you."
---
"It has been my utmost pleasure to have worked with Eileen Forte. Her willingness, promptness, professionalism and work ethics exceeded our expectations. Finding web designs just for you has been just an absolute treasure. Thank you for your dedication in tailoring towards our needs and looking out for our best interests."
Michael Garcia, Life With Visi, December 2014
---
"Thank you for your excellent service building my website www.versacart.net. In addition to creating a website that had everything I asked for and more, you did complete it earlier than I requested. I like the look, the way it functions and the platform it was put on where it is easy to view by mobile phones and smaller devices. I would recommend Web Design Just For You to anyone who wants a great web site and a designer who is pleasant to work with and pays attention to the details."
Doug Goulart, President of Maxco International, Inc., Nov. 2014
---
"Eileen worked diligently to design a website that reflects our business. She is very professional and knowledgeable about marketing and how to use a webpage for the best interest of your business.  She refreshed our webpage in a timely manner and gave it a professional, cutting edge and appealing look!  Thanks!"
Maria Teresa Ruiz, V.P. & Co-founder Purple i am, August 2014
---
"I have hired Eileen to help me with various projects. Eileen Forte is professional, creative, and highly knowledgable. She is a task master and completes projects quickly. More importantly, Eileen is a joy to work with."   
Theresa Fagundes Diener, Fava Day Kids Fundraising, Speech Therapist and Co-writer of Pam Learns Series (Web Design Just For You provided graphic layout services for the children's books as well as the website development.)  May 2014
---
"Eileen was a pleasure to work, had great ideas, a completed our website in an efficient manner. I have recommended Eileen for other business owners in Murphys with confidence.  Thanks in advance,"
Barbara Blume, Creative Cookware in Murphys, CA, February, 2014
---
"Web Design Just for You is a excellent company to work with.  My website development was a very organic process, as I did not know exactly what I wanted for an end product.  With Eileen's help, it has grown into an awesome site.  She is always prompt with her email responses, and any suggestions or corrections that I offered were implemented very quickly.  I would very strongly recommend their services for your business applications."
Carl Gagnon, AFTERImageTECH.com, January, 2014.
---
"I really liked how Eileen created the website.  It's very professional and easy to search through.  Most of my new clients I have now are because of the website."  Jessica Rodriquez, Hair Stylist
"Love the way the website was set up.  Thank You Eileen.  You accomodated any changes we needed to make.  Website looks awesome."  Erica, Hair Stylist
"I love how easily you did every little picky thing we wanted plus used your knowledge to make an amazing site."  Jake, Hair Stylist
"I am extremely satisfied and absolutely delighted with the finished site.  Web Design Just For You is just that. Eileen is magic for website design.  Very satisfied with professionalism, imagination, collaboration, communication and follow through.  Great Job Eileen,  Thank You again," Christina, Stylist/Owner www.thecuttery.com, September, 2013
---
"Eileen Forte from Web Design Just For You was amazing. Working with Eileen was very easy, Eileen was professional and met our needs and expectations from the beginning. We highly recommend Eileen to all businesses and will have no problem returning to her with our web design needs."
---
"I have
my own website.  After talking to Eileen, she assured me she could get me going, give my current website an updated new look, and teach me how to maintain it myself. Thanks to Eileen I am on my way! She has been so helpful and continues to be very accessible. 
I would definitely recommend Web Design Just For You to anyone who is looking for the basic "hobby" web site design or tailored to their specific business needs."
Laura Fletcher, Drycreek Labradors, June 2013
---
"I am a strong believer in referrals. When one of Eileen's clients shared the services Web Design Just For You provides at a reasonable price, I jumped at the chance to work with them. From the first time I spoke to Eileen, I knew we were in good hands. If you know nothing about web design, Eileen will put you at ease, explaining everything.
Eileen's suggestions and ideas are very helpful and her quick response time is incredible. Business cards were designed and delivered in short order. As well, our website was up and running quickly. A joy to work with, Eileen is a true professional who goes the extra mile for her clients. We highly recommend Web Design Just For You. Thanks Eileen!"
Candy Fernandes, Copper Kitchen Foods – Charlie's Finishing Sauce, May 2013
---
"To those seeking to purchase a website and related services,
Look no further. Eileen Forte and her company Web Design Just For You is the best. Before I decided to go with Eileen, I was struggling with a website I could barely understand how to manage on a format that was never intended for what I was doing all because I felt I was going to have to pay a fortune for a good website and a web master that was there and eager to help. Eventually, business grew to the point I had little choice but to start shopping, though much to my disappointment, all I found were the over priced quotes i had expected from places who had obvious overhead to deal with. Then I found Web Design Just For You, and now I have a streamlined website tailored precisely to my needs at a fraction of the cost with an incredible go get'er / technical support professional / HTML Guru that is just an email or phone call away. If you are reading this, stop shopping and pick up the phone."
Donnie Creekmore, Fungivore Mushrooms, April, 2013
---
"Eileen has provided our Kiwanis Club Car Show with a re-design of our website and best of all a remake of the administrative side of the site. She has worked extended hours to help us meet our deadlines and to assure us of our receipt of accurate information and payment from car show entrants and vendors. Her knowledge of web design is astounding and she was able to work via email to create our site. We find her ability to communicate in non-technical language, and her high regard for customer service extremely satisfying. As a representative of the North Modesto Kiwanis Club I highly recommend 'Web Design Just For You'".
Larry Hughes, North Modesto Kiwanis Club – American Graffiti Festival, April, 2013
---
"I am not new to business but I am new to having a website. Eileen did an amazing job and helped me through the process step by step and made me feel comfortable. Eileen is very creative and is able to offer useful suggestions in many different areas. Some of the things I was most impressed with was her reliability in working on our project and always doing what she said she was going to do, exceeding time frames we set as goals. Her versatility ranges from web design, graphic design, and even creating professional business cards. Eileen is easy to talk to and involved me in the process of building the website but was also able to complete any tasks on her own if needed. I couldn't be more pleased with the service I've received and would highly recommend Web Design Just For You to any of my friends or family."
Scott Blandford, Moore Merchandising.com, April, 2013
---
'"Eileen forte has been a pleasure to work with. She is very prompt and attentive, always looking out for the best interest of the website. I would highly recommend her to take your website to the next level."
Steve Ceron, Owner/Chef of Apricot Wood Smokehouse
---
"Web Design Just For You met my company's objectives with efficiency and Eileen was very responsive to my company's need. I would recommend her services to anyone."
Shannon Hilliar, Robert A. Booher Consulting, March, 2013
---
"I can not be happier with the website Eileen has built for us. We were in great need of a website for our new company now. So I started looking for packages that made building a web page sound easy, but something always stopped me from buying them. Luckily, we were referred to Eileen Forte by a mutual friend, who had just recently had their website built. After our first conversation by phone, I knew we were in good hands. She is very professional and fast! I was surprised many times over how quickly she would get things done. Thank you so much for our website Eileen, it is exactly what we wanted and more!!"
Emily Daccarett, Golden Valley Sheep Farm, February, 2013
---
"I am a licensed private investigator here in California. Most of my colleagues all have websites. I felt I was being left behind in the dust and decided to get a webpage. I went to one of the unnamed here, "Free" website creators. Needless to say there is a reason they advertise "Free". It was a disaster trying to create. By the way, it was not exactly "Free".
I was discussing getting a website with one of my clients. He mentioned Eileen at Web Design Just For You. I contacted Eileen and from my first conversation with her, she was gracious and more than helpful to this neophyte in web design understanding.
I explained to her what I needed and Eileen went far beyond my expectations when it came to her professional input in creating my website. I cannot express how happy I am with my website and her personal caring that everything I desired in my website was included. Everyone that has seen my website is impressed with it and asked who prepared it. I refer them to her link at the bottom of the page to contact her.
Thanks to Eileen, I now feel that I have entered into the 21st Century and am on a par with my peers. I cannot express how much I appreciate Eileen's assistance in taking my business to another level of professionalism.
Thank you Eileen and may God richly bless you for your kindness."
Warren Yates, Yates Investigative Services, California PI Lic. # 25735, November, 2012
---
"Hi Eileen, The website looks great. Words cannot express how much we LOVE what you did with it. Thanks again."
Liz Nicolau, Nicolau Farms
"After working with several web designers, Eileen Forte is definitely the person we have been looking for. She is extremely professional, and gets the job done quickly and precisely. Eileen was very pleasant to work with every step of the way, and always looking for ways to improve and make sure the customer is extremely satisfied. Thank you so much Eileen for an exceptional job well done with our website. We only hope you are as proud of your outstanding work as we are. Again thank you so much, and we very much look forward to working with you in the future as our company and website continue to evolve and thrive."
Walter Nicolau
Nicolau Farms, November, 2012
---
"I couldn't be any happier with the service provided by Web Design Just for You. When it comes to having your website created, there is no company that can beat them. Eileen Forte met all of our deadlines while designing my site. She communicated with me on a daily basis and kept me extremely involved with the design process. The customer-service that I received while working with her was exemplary. Eileen went above and beyond when it came to creative-input for my site. She recommended images and content that made the site better than I could have imagined. I highly recommend their services to anyone seeking a web designer, and would be happy to speak with anyone that has questions regarding the company."
Steve Faulk, Premium Job Fairs, October, 2012
---
"Eileen is a dedicated and reliable professional with a great attitude. She is pleasant to deal with and always quick to make any changes I need on my website. Her experience, creativity, and drive to excel makes her a great asset for my business. Plus, her prices and services are way better than most web designers. I recommend web design just for you to everyone who wants a professional presence in the internet".
Celio "Ty" Silva, Certified Trainer and Therapist at One Body Integrated Training and Therapy, LLC, January, 2013
---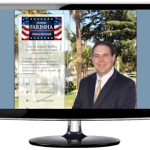 "Professionalism, personal service and attention to detail are the hallmarks of excellence behind the management of Web Design Just For You. I came to Eileen seeking to produce a website for my campaign profile and was very glad I did so. To have such a quality company close by with affordable prices and quality production is a great asset for Patterson and the local economy."
Dominic Farinha, Patterson City Councilman, September 2012
---
"I was referred to Web Design Just for You by a mutual friend in the fitness industry. Eileen and I spoke in depth about what I wanted for my web site during our first initial phone consultation. I did not know the ins and outs of web design so what I desperately needed was a professional who could conceptualize my ideas and put them in a comprehensive format. She helped me with everything from page layout to my personalized logo and created a solid presentation for what was initially a nebulous concept in my head.
There was a lot of work on both our ends. Eileen researched example pages, found pictures, and edited my content. She was always receptive to my ideas and gave me exactly what I asked. If I asked for a revision she completed it the very same day. Her quality and speed of service has been unmatched when I speak with my friends and compare their experiences with their web designers. Her prices are beyond competitive – I would say unbeatable.
She linked my site to my social network and within minutes of us launching the site, I was getting calls and comments from friends saying how nice the website looked. My business is something I cherish. I absolutely love what I do. Your web page is the face of your business and you want someone to regard it with as much care as you do. I highly recommend the services from Web Design Just for You."
Arturo Fernandez
President – Military Grade Fitness Incorporated/Land Park Crossfit, September, 2012
---
"If you need a website for your business and you're new to having a website built, and you're looking for a designer, you know it can be intimidating and costly, and you're just not sure what you're going to get, no need to look any further. Web Design Just for You is just for you. It was for me and still is. They are very affordable, diligent and knowledgeable. They get the job done fast, and they are there when you need them."
Gary Price of Affordable Overhead Door Co., October 2012
---
"Eileen at Web Design Just For You worked with me every step of the way to design and optimize my first website. She listened to me, understood what I was going for, was wonderfully patient with my inexperience, and delivered what I needed in a professional and timely manner. As a result I get regular compliments on my website and, more importantly customers are finding us first on the list due to a great search engine optimization! I will continue to rely on her expertise and thoughtful support. Thanks so much, Web Design Just For You."
Anthony Gheen, September, 2012
---
"Eileen was everything we had hoped for in a web designer…and more! With her expertise in web design, she made the whole 'creating a website' process an easy and exciting one. After listening to all of our ideas, she went beyond expectations and offered professional insight to how we might be able to give our website a more professional and distinguishable look. Furthermore, any changes we requested to the website were carried out in a prompt and proficient manner. The finished website far exceeded our original visions and we could not be happier! Eileen, thank you so much for bringing our dreams to reality…we really appreciate all that you have done for us!"
Gerardo Lopez of My Easy Prayer, August 2012
---
"Webdesignjustforyou.com has done a great job designing my website.
Anybody who wants to start a website or want a better website should go to webdesignjustforyou.com.Thank you Eileen, I really love the website. I really appreciated the time that you took to work on my web. The service and the quality of your work was beyond my expectations. Your prices are fairly reasonable and affordable. Thank you so much!"
Hawk Chhim of Hawk Fight Academy in Modesto, CA, March 20, 2012
---
"***** (Five Stars out of 5)
Web Design Just for you provided the best experience possible when designing a web site. Web designers that I dealt with in the past were extremely flaky. Eileen was truly exceptional. She is not only very creative, but she is very professional. I highly recommend using her company for any of your web or e-business needs."
Danny Castillon of RJ Produce, Inc. in Modesto, CA, March 13, 2012
---
"The presence of a professional website has been integral to the success of our team. As a small school, we lack funding for transportation to events. The logistics of getting your team to an event on time is a frustrating experience. No matter how hard we train, it is of no use if we cannot communicate race course time and location. Our web address is easy to remember and seemlessly connects parents and coach to competition, results, and any upcoming events. As a coach, I can easily post Off-season workouts and nutrition tips to my athletes. The Audio and visual features keep the parents and athletes coming back, while the automic updates ensure that they wil not miss out on any valuable information. Our Professional website is not just convenient, but crucial to our success. Eileen, thank you so much for your hard work. "
Central Catholic Cross Country, Coach Miles Neisser, CA, December 11, 2011
---
"Web Design Just For You did a wonderful job in designing my website for my dental practice. I feel that it portrays myself and my office extremely well and highlights the objectives of our practice…… that we will make you comfortable in a friendly atmosphere and most importantly, we will take excellent care of your teeth, making you very happy with your smile! The web designer, Eileen Forte, was easy to work with and the website was a great value. I would recommend Web Design Just For You to anyone needing a website to represent their business."
Dr. Jas Grewal of Smile Shine Dental in Patterson, CA, November 30, 2011
Web Design Just For You – Serving nationwide cities with offices in Modesto and Pleasanton, CA, area.
Call for Website Design
With our main office in Modesto, CA, we have nationwide clients.
Mailing Address:
3430 Tully Rd, #20-429
Modesto, CA  95350
Hours:  Mon-Sat 9am-5pm
Our Commitment
We strive to deliver a level of service that exceeds the expectations of our customers.
If you have any questions about our products or services, please do not hesitate to contact us. We are friendly and knowledgeable and look forward to assisting you.
---
WE ACCEPT:
"The excellent customer service our clients receive is what sets us apart from our competitors.  You will not be able to find better products and services at our prices."
Eileen Forte, Owner and Web Designer
Web Design Just For You